Red Ambassadors
RED AMBASSADORS
THE RED CYMBALS' MENTORING PROGRAM
DEVELOPING / ENCOURAGING EMERGING ARTISTS
(UP TO 18 YEARS OF AGE)
PROMOTING DRUMMING AND
POSITIVE MENTAL HEALTH
WHAT IS THE RED AMBASSADOR PROGRAM?
The Red Ambassador Program is a Red Cymbals initiative to work with young drummers up to 18 year of age* who want to be a part of the Red Family. We get a get a lot of requests for 'sponsorship' but believe it would be massively irresponsible to give away free stuff because it would not teach younger drummers to work hard what they want to achieve.
Therefore, we have set up the Red Ambassador Program to help young drummers achieve what they want to as a person and drummer. A Red Ambassador is someone who is keen to promote drumming and positive mental health as well as to be mentored and encouraged by the Red Cymbals family to be the best person and drummer that they can be.
We will:
Share our knowledge with you.
Mentor you in growing your gifting as a drummer.
Coach you in making quality content to increase your online (and real life) profile/presence.
Promote you as a Red Ambassador on our website and social media.
Give you exclusive discount offers on Red Cymbals, apparel and other Red Cymbals gear.
Help you get the cymbals and gear that will suit your needs
and so much more…
INTERESTED IN BECOMING A RED AMBASSADOR?
Sounds like something you are interested in? Then have a chat with your *parent/s or guardian (if Under 16) and then see below:
*Parent/guardian permission required for people under 16 years of age.
Email us at info@redcymbals.com and tell us:

-Your Story (more than 150 words please) - how did you get into drumming, what inspired you, who have you learnt from: why do you want to be a drummer?

-Your Social Media Links: Instagram, YouTube, Facebook, TikTok etc...

-Your Vision for drumming: what do you want to do in the future as a drummer?Where / with who do you want to pay? If you could play in any band which one would it be? 

Your date of birth. Location (Country you live in).

The best way to contact you. Email / Phone etc...
RED AMBASSADORS
MIA
MALLARI - 

UNITED KINGDOM
Mia is 7 year old drummer from Portsmouth United Kingdom. She has started drumming one year ago during the pandemic learning drums online. She was so fascinated with drums that she practice everyday for a few hours. This has manifested in her finishing Trinity College of London grades 1,2,3,4 and 5 with Merit and Distinction just in 1 year - currently she is doing grade 6! She has also taken part in Hit like a girl and Drum Off Global where she represented United Kingdom in both competition's finals.
Mia loves great music from various bands all over the world such RHCP, Metallica, Paramore, Nirvana and Living Colour (Red Cymbals' Favourite Band!).
Recently Mayville High School, where Mia attends, Junior students were allowed to practice with the Senior band and Mia was very excited to be given this opportunity.
Finally, Mia loves to connect with drummers from all over the world but special thanks to Zhene, Zasa and Iris and many for inspiring her to be best drummer she can be!
VANN LITTLE - AUSTRALIA
Introducing Vann, a drummer with a passion for rhythm that runs deep. From a tender age of 2, he was handed a junior Sonic Drive drum kit, aptly named "Bam Bam," igniting his lifelong love affair with drumming.
Vann's journey took a significant turn in year 6 when he joined the primary school rock band, marking the beginning of his musical adventure. In the following year, Vann was fortunate to cross paths with mentor Brett Newman, who laid the sturdy foundation for Vann's aspiring drumming career.
The years 2021, 2022, and 2023 brought exceptional opportunities as Vann earned a coveted spot as a drummer in the Eumundi School of Rock program, an initiative led by the renowned Australian Artist, Katie Noonan.
In 2022, Vann decided to take things to the next level by forming a band, the "Psycho Seagulls," alongside his younger brother and two schoolmates. Together, they embarked on a musical journey, performing a diverse repertoire of covers and crafting two original songs. Their collective efforts reached a crescendo when they clinched the title of Australia's Best Junior Rock Band in the National Rock Fest competition, a well-deserved recognition.
Vann's love for the drums knows no bounds. He recently found himself in the heart of a Sunshine Coast-based Punk Band called "Acended," who hold ambitious dreams of touring the world. The band began recording and laying tracks for their first EP in early October 2023. Vann's drumming style is a rich tapestry woven from influences and inspiration drawn from legendary drummers like Mikey Richards (Violent Soho), Ben Gordon (Parkway Drive), Chris Adler (Lamb of God), and David Silveria (Korn).
To top it off, Vann is thrilled to be a part of the Red Ambassador Family, further solidifying his commitment to the world of percussion. His journey in the world of drumming is just getting started, and the rhythm of his life continues to beat strong.
Follow Vann and his band ac.ended on Instagram 
RAPH ARRIETA - WESTERN AUSTRALIA
ZEKE CARLE - COFFS HARBOUR AUSTRALIA
Zeke's passion for drumming ignited at the age of 2, and he acquired his first junior DXP kit at the age of 3. Displaying an innate talent and unwavering dedication, he swiftly progressed to a Pearl Vision 6-piece kit by the age of 5, all through self-guided learning. His talent caught the attention of the conservatorium of music. At 13 years old, Zeke serves almost every week as one of the backbone drummers for Lifehouse Church and Youth Worship in the vibrant city of Coffs Harbour in New South Wales Australia.
To enhance the musical experience, the church employs cutting-edge technology, utilizing in-ear monitors, click tracks, and computer-based multi-tracks when necessary. Moreover, Zeke had the privilege of playing for the Youth Alive NSW Band, where he showcased his remarkable talent in Sydney, contributing to the unforgettable opener, "All of Us." Zeke has a strong passion for God, and his worship is characterized by profound sensitivity and a deep connection to the Holy Spirit. He finds inspiration in renowned Planetshaker drummers Mike Webber and Andy Harrison. In addition to worship music, Zeke greatly admires drumming virtuoso Travis Barker, drawn to his remarkable speed and mind-bending fills.
Zeke's ultimate dream is to relocate to Melbourne, where he aspires to join the ranks of Planetshakers, leading thousands of people in heartfelt worship. Alongside this dream, he remains deeply committed to supporting his local church as an integral member of the drumming team, as drumming is the very essence of his being. Zeke devotes at least two hours every day to honing his craft in our music room, a testament to his unwavering dedication.
Currently, Zeke has a new Pearl Reference kit and a Gretsch Custom USA Bronze 14x6.5 snare. Zeke is playing Red Cymbals Vertical Raw Series: 24" Ride, 22" Crash, 21" fx Crash, 16" Hi-hats plus a 888 Stack.
CALEB SENKINDI - AUSTRALIA
Caleb is a worship drummer who enjoys sitting on the side of the church where the drums are so he can see what the drummer is doing. His inspiration came at a young age from other drummers playing to worship songs in church. Whenever he had the opportunity to learn something new, he took it and was very appreciative of it.
He didn't acquire a drum kit of his own until he was 13 years old but before then at school, he would practise his songs at lunch time in the school music room so he could not only impress his teachers but also his worship leader so he could play the drums for his church. He was recently accepted to play drums at his local youth in Coffs Harbour and he will also be playing drums at his school for an event that takes places every Friday called 'ChurchTime' where the entire school comes together, and they worship and praise the lord and there is also preachers who preach there.
Caleb was born in Coffs Harbour, Australia and currently lives there. Due to living in close quarters to other houses he can't play as loud or as much as he would enjoy to, but he'll take whatever he gets when the chance comes. Caleb hasn't had a drumming teacher before other than his school teacher but he's eager to learn from anyone. Caleb has always been inspired by surrounding drummers and he likes stealing their techniques and drum fills off of them. One of Caleb's Favorite Worship Drummers/Drum Teacher is called Timothy Cincalla and he's learnt most songs from his YouTube channel and his drum covers. Caleb recently made an Instagram account called sevenrhythmicsounds which was made solely for his drumming videos go check it out!! 
JAMES THREFALL - UNITED KINGDOM
James, aged 17, is a rising drummer in the English music scene. He started playing drums at around age 5 and has stayed dedicated to this day. He has surpassed his Trinity Rock and Pop Grade 8 with Distinction and continues to look for the next challenge.  James is the Drum Kit player in an up and coming Indie Rock band called Zone125. Made up of four talented musicians, they have gained upwards of 2000 followers on instagram and have played in venues such as Manchester Academy Three. 
As well as this, James was Principal Percussionist in Lostock Hall Memorial band, where he fine tuned his skills before recently moving to Freckleton Brass, a first section Brass Band in NW England. As well as this, he's principal percussionist in Lancashire Youth Brass Band where he takes an active role in mentoring younger percussionists and leading a team. They recently placed 2nd in the National Finals. He likes nothing more than playing with other musicians and is a rock musician first before a classical percussionist. 
He's currently at college studying a Music Performance and a Music Technology course where everyday he strives to improve himself as a musician and make an impact in the music scene. Within college he's also a mentor to another drummer where he guides him and teaches him how to improve at a rapid rate. James' main inspiration is Adam Gilbert, the drummer for STARSET. He admires his style one day wishes to be as successful as he is. You can thank Adam for James' unique, energetic, style as he takes a lot of inspiration from him and other artists alike. 

James currently has a Gretsch Catalina Club 24" and uses a variety of cymbal brands before moving to Red Cymbals. As well as this he uses a Roland Drum kit which he as expanded himself utilising a TD-20 Module. 

RYAN MCKNIGHT - UTAH USA 
Ryan is a multi instrumentalist from Provo, Utah. He started on tuba in 7th grade but picked up drums in during 2020 in the COVID-19 lockdown. He is has had no personal lessons but has learned through YouTube, being put in his high school's jazz band, and just giving drumming a go. He believes genres should be able to mix when done right and has worked hard to learn many styles, including metal, jazz, latin and trap, and try to incorporate them into songs. He only recently started gigging but has already fallen in love with the feeling of going on stage and surprisingly loves the feeling of tearing down the kit and the hours of last minute practice before a show. Ryan's biggest influences are Slipknot, Rammstein, Riot Jazz, Slaughter To Prevail, and Zack Graybeal (ZackGrooves). He is so excited to be part of the Red Ambassador family and teach people that they should give things a go - it's an opportunity to get better, and always love what you do.
JEDIDIAH HAINS - ADELAIDE SOUTH AUSTRALIA

Jed is a drummer from Adelaide, South Australia. He has been playing drums for 11 years now and has also played in many different bands as well as musicals and musical showcases. His key influences that have kept him going has to be his first drum teacher Monica Lashes from the Australian band The Babes. Monica has the world record for drumming continuously for 24 hours. When she did this it really inspired Jed to not give up when he is struggling with drumming, and she has been a big part of his journey. As well as drums Jed also plays guitar and bass, but drums is by far the favourite.
LAZER ORMSBY - USA
Lazer is a 15 year old drummer from Salt Lake City, Utah. She started drumming last year during the pandemic and immediately fell in love with it. She is completely self taught and practices everyday for at least 4 hours and she's always learning new songs. Even though shes only been playing for a short period of time, she's managed to land gigs at local venues in her city. Performing is her favorite thing to do and her dream is to tour the world. Her main influences are Paramore, Metallica, Blink-182, and Machine Gun Kelly, and she really looks up to Travis Barker. She's really excited to be working with Red and show the world her passion for music!
Follow Lazer on: INSTAGRAM and TIK TOK
THOMAS CRESCITELLI
ADELAIDE SOUTH AUSTRALIA
Thomas received his first drum kit when he was 4 years old and started lessons at the age of 7. He has rapidly progressed over the years completing his Rock School Grade 3 exam at the AMEB in March 2021 and was recently announced as the Junior champion of the 2021 Drum-Off Australia drum solo competition.
 Thomas is a John Bonham fanatic with his main influences being Led Zeppelin, Black Sabbath, Red Hot Chilli Peppers and Foo Fighters. He enjoys playing with other musicians at every opportunity and regularly attends open mic sessions around Adelaide. 
 Thomas posts amazing content on INSTAGRAM so check out him out and give him a follow!
LUKE NAIRN - CANADA
Luke, a metal drummer from Canada's east coast, started playing drums in late 2016 as a self-taught drummer, before taking private lessons for over 2 years. also taking part in church ensembles. Luke has landed himself a gig in the metal band known as Vital Oath where he adopted the stage name Oath Writer.

His biggest influences are Tom Hunting, Inferno, and Jan Axel Bloomburg. Luke's current projects include drumming for Molotov, as well as teaching drum lessons at a local musical studio. He also keeps busy by posting videos and doing live streams on Instagram. Luke is inspired by his desire to connect musicians across generations and bring people together with music.
Check out Luke's Instagram
LACHLAN FORDE
PERTH WESTERN AUSTRALIA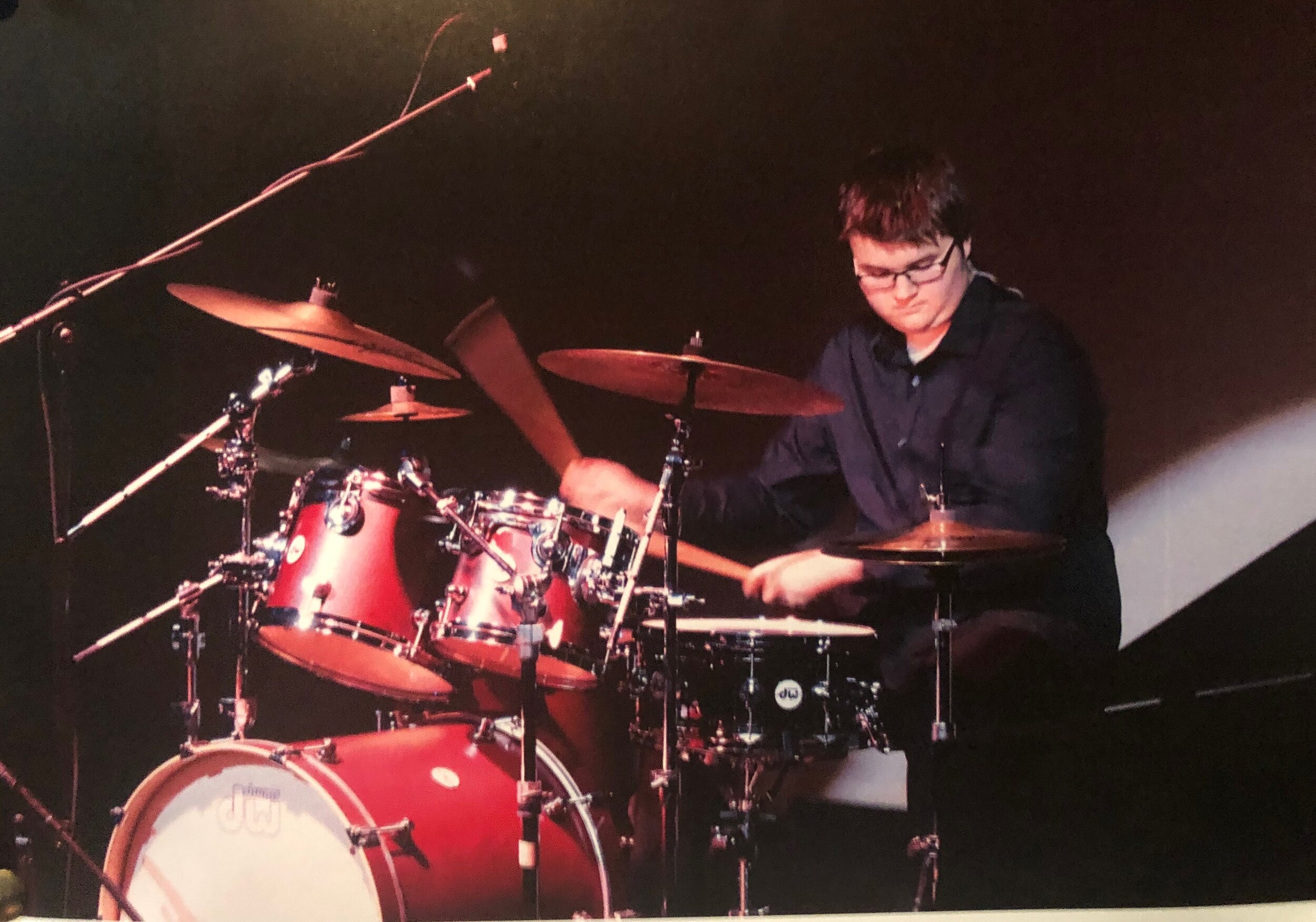 Lachlan is a 17 year old ATAR music student who has played music all throughout his life. When he was 8 he tried his cousins drum set for the first time and instantly fell in love with drums. He missed out on drum lessons in primary school because it was the popular instrument. In Year 7 music, Lachlan immediately turned his attention to the drums and would spend most of his lunches in a practice room working on his technique and improving his overall ability on the kit. Lachlan was picked to be the drummer for his first live performance in a year 8 contemporary music showcase. Over the years Lachlan remained self taught and was the drummer for his band in countless musical showcases and performances. 
Lachlan is currently a year 12 student studying ATAR contemporary drum kit. His drum teacher John Trotter is a world renowned drummer from Newcastle upon Tyne. Lachlan has played in countless venues across Perth over the last 4 years. He is extremely excited to be working with Red Cymbals and supporting everything they stand for. Lachlan has always been passionate about his music and drums allows him that extra little bit of expression. Anytime Lachlan sits on the drums, he plays something new. Lachlan wants to share his passion and love for music and wants to work with and get to know other drummers throughout the drumming world.
Check out Lachlan's Instagram for more.